ABOUT US
The Nelson Legacy Group Story
In the early 1950's W.C. Nelson, Sr. made his first real estate purchase in Redmond, Washington. Over the years he added office and retail holdings in Redmond, Kirkland, Kent, Renton, Tacoma and eastern Washington.
Upon his death his five children became his successors and owners of the business. They decided to have the business professionally managed and operated as a legacy for their children and future generations of family members. As a consequence, our ownership commitment is long term with a strong commitment to the communities in which we have a presence.
Today our property ownership has been largely consolidated into retail and office holdings in Redmond, Kirkland and eastern Washington. We conduct our own leasing, develop and redevelop our properties, and acquire properties for development. Daily property management is performed under contract by Kennedy Wilson Properties Northwest, Ltd.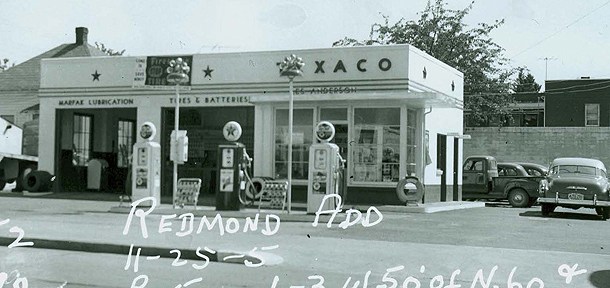 Texaco station at Redmond Way and Leary Way, Redmond, WA in 1952. Photo courtesy of the City of Redmond.